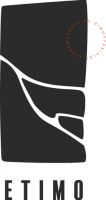 Web design
Etimo produces 100% biodegradable materials, reusing and resignifying our waste, generating materials with unique sensory experiences.
This site seeks to digitally represent the textures and colors of biomaterials, while inviting users to learn more about this world, forming part of it by taking courses and workshops.

Technical details
These are some of the plugins and tools that boost Etimo website's capabilities.
Active plugins:
Elementor Pro
LiteSpeed Cache
WooCommerce
Already installed software:
HTTP/3
PHP 7.3 + LSAPI
MariaDB 10.2
LiteSpeed
Git
Python