Media files are an important part of any WordPress website and will enrich your site allowing you to get a better result in your designs. To use them effectively, it helps to have a firm grasp on how the WordPress media library works.
Most websites have images, videos and other type of multimedia content. In WordPress, you will find all these files in the "Media" section. Learning how to upload, edit, delete and manage multimedia files will help you improve the health and performance of your website.
Add new content
By going to the "Media > Add new" section you can select or drag &
drop content to upload it. WordPress actually allows you to drag & drop content even in the "Library" section.
Take into consideration that WordPress will offer a variaty of ways for users to upload media content depending on the task you are perfoming. Another good example is the chance to upload media content while writing an article in the "posts" section.
Multiple selection
In the media library, WordPress will allow you to select files. By checking the "bulk selection" option you can select multiple files. Consider that the only action available while bulk selecting is deleting files. To view or edit media content you will need to pick single files.
Download your content
In case you want to download your content just go to "Tools > Export"
on the WordPress dashboard sidebar. This option will allow you to download other content aswell including an XML file with all your WordPress pages, posts, comments, categories and more.
Edit your images
WordPress offers some image editing features. Go to the "Media Library" and pick the file you want to edit. Then, click on the Edit image button. This tool will allow you to crop, rotate, flip, change scale and the aspect ratio of your images.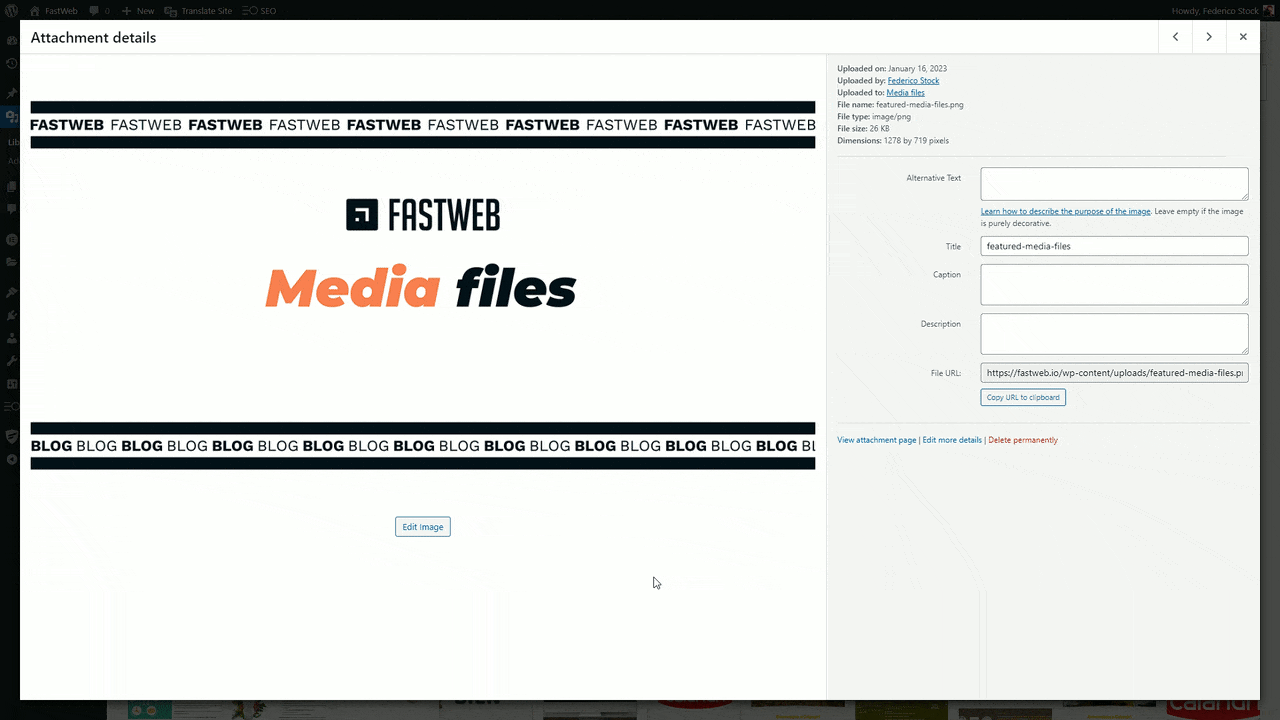 Weight, load and optimization
All these tools that we have presented serve to correctly manage your multimedia content, but it is important to remember that there are tasks that we can carry out outside of WordPress, in an instance prior to loading the content. A good example of this is defining the correct and necessary format for said content (for example, an image in .png format is not the same as in .jpg format) as well as optimizing its weight prior to loading. We always recommend compressing images as much as possible without sacrificing quality or resolution.
Final thoughts
The images, photos, files and videos that are uploaded in the multimedia gallery are essential for the assembly and operation of a website. It is important to consider the amount of content that will be uploaded to the site in order to choose the right hosting plan and avoid downtimes and issues with your provider. At the same time, keeping files in order will help you prevent duplicates and unnecessary load to your website.
In this article we mentioned some ways to manage and edit your content with the tools that WordPress provides, but in the end, it's you, the user the one that can make a real, tangible difference to keep the website in good health.